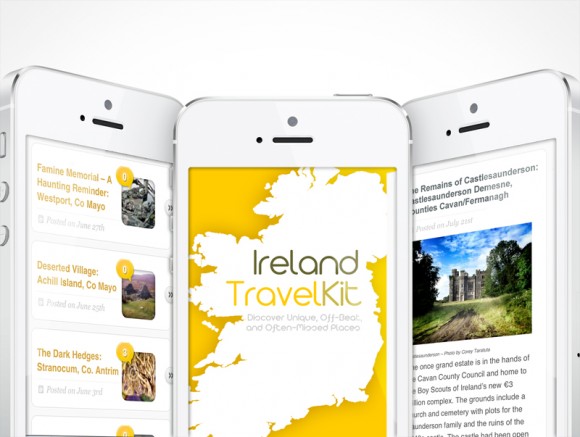 Ask Stephanie Chastain or Liam O'Connell for their favorite places in Ireland, and you are more likely to hear about a scenic road that is way off the Ring of Kerry or learn of a hidden castle that doesn't advertise a kissable stone. They are travel bloggers who have teamed up with over a dozen other Ireland enthusiasts to develop the Ireland Travel Kit App for iPhone, iPad, and Android devices.
Highlighting the Emerald Isle's offbeat, unique, and often-missed destinations, the Ireland Travel Kit turns a smartphone into an interactive encyclopedia of memorable places and experiences that utilize the device's built-in features such as mapping, GPS navigation, web browsing and streaming audio.
"It's the kind of app I wish was available to me when I travel abroad," says Cork native Liam O'Connell who contributes to the Ireland Travel Kit and shares travel advice at www.GotIreland.com. "Anyone can find the Blarney Castle's of the world. Spend a few minutes browsing www.IrelandTravelKit.com, and you'll see how unique the destinations are."
With over 400 places already featured, the app is quickly becoming the must-have travel companion for anyone looking to get off the tourist trail. "Guidebooks serve their purpose, but sometimes you just want to get off the beaten path," says app contributor Stephanie Chastain who writes especially for first-time visitors at www.InfiniteIreland.com. "This app gives you all the information you need to find interesting, unique and fun destinations all around the country!"
The app and its companion website were created by Corey Taratuta who is better known for hosting the Irish Fireside Podcast and Blog. "The goal for the Ireland Travel Kit is simple," says Taratuta. "We want to show that every corner of Ireland is filled with interesting places, and we do this by combining technology with the knowledge of the most passionate Ireland travel experts and enthusiasts. It's about sharing the joy of finding new things and sharing them with others."
A sampling of the places featured in the app are available at www.IrelandTravelKit.com.
The app can be downloaded on the Apple app store at the following link:
http://itunes.apple.com/us/app/ireland-travel-kit/id543359155?ls=1&mt=8
The app can be downloaded on the Google Play Android App store at the following link:
https://play.google.com/store/apps/details?id=com.app_itk.layout&feature=search_result
Contact Info:
Corey Taratuta, Editor of the Ireland Travel Kit
414-273-0643
Email: corey@IrishFireside.com