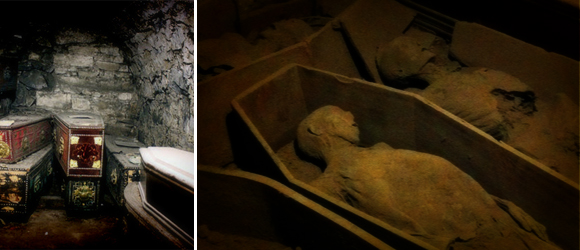 Above ground, the church houses an organ Handel supposedly favored and rehearsed his Messiah. Underground, the church's crypts are an experience unto themselves. You'll find yourself guided down the cobweb-lined stairs to vaults that house the death mask of early Irish rebel Wolff Tone and the coffins of the Sheare brothers whose sentences in the 1798 rebellion became an example of cruel and unusual punishment throughout the world.
The visit gets one more morbid layer; the conditions under the church are perfect for natural mummification, and the visit gets you up close and personal four mummies. With dusty, dried fragments of flesh, hair, and even fingernails intact, the bodies are as much a curiosity as they are a piece of history. Each mummy tells a bit of a story… some of their titles give a clue, the Crusader, the Nun, the Thief.
Although only a few steps are required to reach the crypt, the low headroom may be challenging for those who have difficulty with stairs or who are very tall. Once inside, maneuvering in the crypt is relatively easy… just not for the claustrophobic.
Inside the Crypt at St Michans – Photo by Peter Moran via Flickr Creative Commons
Entrance to the Crypt – Photo by Jesús Fernández García via Flickr Creative Commons

The caskets of the Sheare brothers and Wolfe Tone's death mask – Photo by Jennifer Boyer via Flickr Creative Commons
Organ on which Handel rehearsed – Photo by Ben Carlisle via Flickr Creative Commons
St Michan's Mummies – Photo by Jennifer Boyer via Flickr Creative Commons
St Michan's Mummies – Photo by Peter Moran via Flickr Creative Commons