Just before you reach Clifden, the unofficial "capital of Connemara", you pass Joyce's, "One of the Best Craft Shops in Ireland." As we did enter those doors, I can tell you, it is a really good craft shop. I purchased some Connemara Marble coasters that remind me daily of our last trip to Ireland.
Right across the road from Joyce's, at the rear of the parking lot, sits Ireland's only late-20th century antiquity: The Connemara Giant.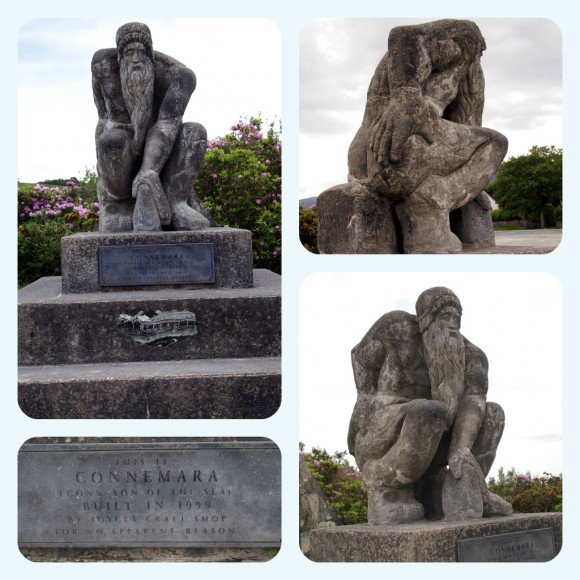 Created by Joyce's Craft Shop "for no apparent reason", the Connemara Giant may have a bit of Irish magic about him…
Local legend says that if you touch the hand of the giant you will be blessed with the knowledge of his ancient tribe.
Now, I don't know about you, but my first thought was that the legend didn't say which hand you needed to touch…
And just behind the giant is another marker, again filled with Irish wit…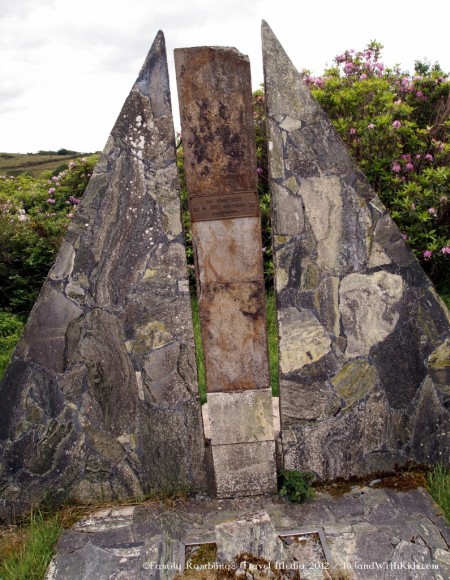 According to the plaque: " On this site in 1897 nothing happened."
To find both of these monuments (and touch one of the giant's hands), follow the N59 between Galway City and Clifden.  Joyce's Craft Shop sits in the tiny village of Recess, about 13 miles from Clifden.
For more on visiting Clifden and Connemara, visit Ireland With Kids.
During a follow-up visit to the Connemara Giant we met his creator. Read what he had to say about touching the hand….